---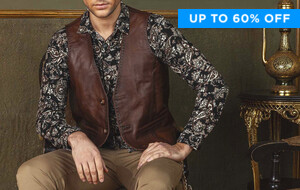 Paul Parker Leather Vests
A Leather Vest Looks The Best
What It Is: This collection of leather vests from Paul Parker is all about big style and attention to the tiniest details. Each piece is uniquely crafted in supple lambskin leather for a soft durability that is built to last from one season to the next.
Why You Need One: A vest is a vote of confidence - that extra step with a style that says you're the man, man!
Sale Ended
The sale has ended for this item, but check out our other amazing sales.